Mileage Driven: 507 miles
Points of Interest: Death Valley National Park
Interesting Fact about Death Valley National Park:
Death Valley got its name from prospectors during the California Gold Rush in 1849, after several pioneers died during an expedition
Death Valley has been a popular shooting location for the Star Wars movies.
The highest point in the United States in at Mt. Whitney, at 14,505 feet. Death Valley, which has the lowest point in the U.S., is only 76 miles from Mt. Whitney. The lowest point in the United States is Badwater Basin, located in Death Valley. It is 282 feet below sea level.
February tends to be the wettest month in Death Valley, with an average of 0.51 inches of rain.
We weren't sure what the drive was going to be like from Vegas to Reno as we were just expecting desert and nothingness. It was actually really interesting and beautiful! Due to a mapping error, we ended up going a little out of the way to get to death valley when there was a straighter shot. We headed up I95 and cut down on Hwy 273 at Amargosa Valley crossing into California. We finally made it to the Death Valley Junction and hung a right onto 190 to drive through the park. I was excited to see Furnace Creek as anything that has been named that must be worth a looksy. This was just going to be a drive through and not a hike about stop, and with all the beauty I saw, it demands a longer stay so I will have to bring hubby back someday and stay in the park to really see it all.
Our plan was to drive through the park and head to exit at the Beatty Junction towards Beatty, NV. As we arrived, the sky couldn't have been more clear or blue. We have really lucked out this trip so far as haven't had one rainy day yet! The blue in the sky was so electric that it almost hurt your eyes to look directly at it!
As we drove through the park it seemed as if the most beautiful views were those in the rear view mirror and so we were constantly stopping and taking it all in. The park seemed almost empty for it being mid summer, but then again, check out the temp pic below and maybe that is why. Ha!
Make sure as you drive through the park, that if you only stop at one or two places, make sure this is one of them. Zabriskie Point is a quick walk to a beautiful overlook of the desert and right down from the visitors center. You can see below that the path is paved and the end is at the top of the little hill. The view makes you feel like you are on a different planet..must be why they liked to film Star Wars here.
Continue to travel on Hwy 190 after you look a the point and make sure to stop into the visitors center. They have a small gift shop but have a great theatre in which you can watch a 15 minute video on the history of the park.
And the temp was rising! But honestly it is a dry heat and so I didn't think it felt that hot. Even still, if you visit the park, please please please drink water constantly and any walking around you are doing, you should have a baseball cap on and a water bottle in your hand at all times.
The roads were so empty that stopping was easy without causing a traffic jam. It was kind of eerie how empty it was! Even Gypsy wanted to stop and take a look around! We are breaking her in well in miles and terrain. 🙂
Of course with the right opportunity, we had to stop and get Sam's famous meditation pose! Cutie!
And the views in the rear became more prevalent as we began to head north towards the exit of the park. A quick visit for a taste of a beautiful National Park that demands to be seen and preserved for sure. Make sure this one is on your bucket list and plan to stay at least 2 nights and 2 days to get to see it all.
This is a beauty to shoot in black and white for sure.
From Hwy. 190, we headed north on the Beatty's Cutoff and took a right at Hell's Gate and rode the Daylight Pass Road (Hwy. 376). This was a beautiful road as in your rearview mirror, you could see the horizon of the world you just left behind. We didn't stop at Rhyolite, a ghost town, but recommend it if you get a chance and have the time.
We merged onto I95 and headed towards Scotty's Castle in the Grapevine Basin area, which is unfortunately closed due to flood damage. It is said to give you an eye into the Roaring 20's and Depressing 30's eras and is an engineering dream built by the dream of 2 men named Walter Scott and Albert Johnson. They teamed up and built the mansion in the desert.
"Moonlight anywhere is a delight. But there's no moonlight in the world that can compare with the moonlight in Grapevine Canyon, our desert canyon, where the Castle stands."
-quote by Mrs. Bessie Johnson from Death Valley Scotty by Mabel © 1932
If you want to read more about this cool place, check it out here. Hopefully the damage can be repaired soon so people can visit it first hand rather than just reading about it. https://www.nps.gov/deva/learn/historyculture/scottys-castle.htm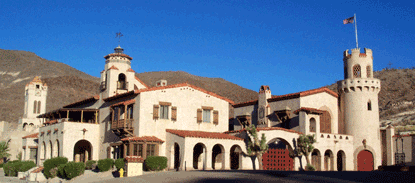 Now, as we drove, we got a little surprise by the town of Tonopah, NV. This is a famous mining town known as the "Queen of the Silver Camps". If you blink you may miss it, but one of the eye catchers as you drive through the small town is the Clown Motel. Yuck! If you know me, then you know I have nightmares about clowns, so this was a place we didn't stop and look around. Ha! But you can read about it here if you so desire to. http://www.tonopahnevada.com/clown-motel/ The town also has a really neat cemetery that  you will want to stop and look around in. I love cemeteries and day dreaming about all the souls laid to rest there…the stories they had to tell, the families they raised, the challenges that they confronted to make a living. Soooo cool!
But the really interesting stop was in Hawthorne. All of a sudden we came into an area with thousands of bunkers in the ground that seem to extend for eternity through the hills on the horizon. What the heck was this place? Were these the famous bunkers that people were buying up for when the apocalypse came to have ready?
No! Upon internet research as we drove, we found out that Hawthorne, NV is a US Army Armory ammunition storage location! You won't miss it with all the bunkers around you on both sides of the road, but if you hit Walker Lake, then you have gone too far. There are over 2,427 bunkers in the ground according to Wiki and is the largest depot in the world! Upon further reading, we found that it stores the reserve ammunition for 30 days after a major crisis. So incredible and intimidating to drive through such a HOT zone!
What was funny is that as we reached Walker Lake, we were stopped on the road by these handsome men and beautiful ladies that were very curious about us. Such fragility and softness surrounded by fire power!
Then the view of the lake was stunning! We loved the reflections that we caught in the photos. If you can zoom into the photo, you may see more bunkers on the right towards the bottom as they are located right up to the lake.
It has been a long day and we are tired today after all this excitement! It is time to get to Reno and rest! So, we get gas and move forward.
We arrive in Reno around 7:30pm and near when the sun was going down. It was time to get the gear in and do some laundry.  The Air B&B was very unique as we had a room in the owner's home and so the kitchen, living and bathroom spaces were all shared but the owners were super friendly and had alot of neat hobby pieces to show us that were really interesting to the boys. IN order to protect their privacy, I won't mention them all here so you will just have to go and book with Renee and Larry to find out the very interesting nature of their lives!
Our room had 1 twin, 1 double bed and a bunk bed and the space was very comfortable. But if you don't like sharing bathrooms, living and kitchen spaces, then this location wouldn't be for you. We didn't mind it this time as we got to meet fascinating people at this stop, like all the others so far so it was nice as it forced you to mingle when if you were in a hotel, you wouldn't do that. There is a tv in the room and a little desk. They were wonderful hosts and gave us the space we wanted when we wanted it.
Here are some pics of the space and you can find the link to book the room here: https://www.airbnb.com/rooms/20968476?source_impression_id=p3_1562878308_eDirR%2FmEqgHmYOS9
They had a great deck for viewing the city and a hot tub that is available to guests.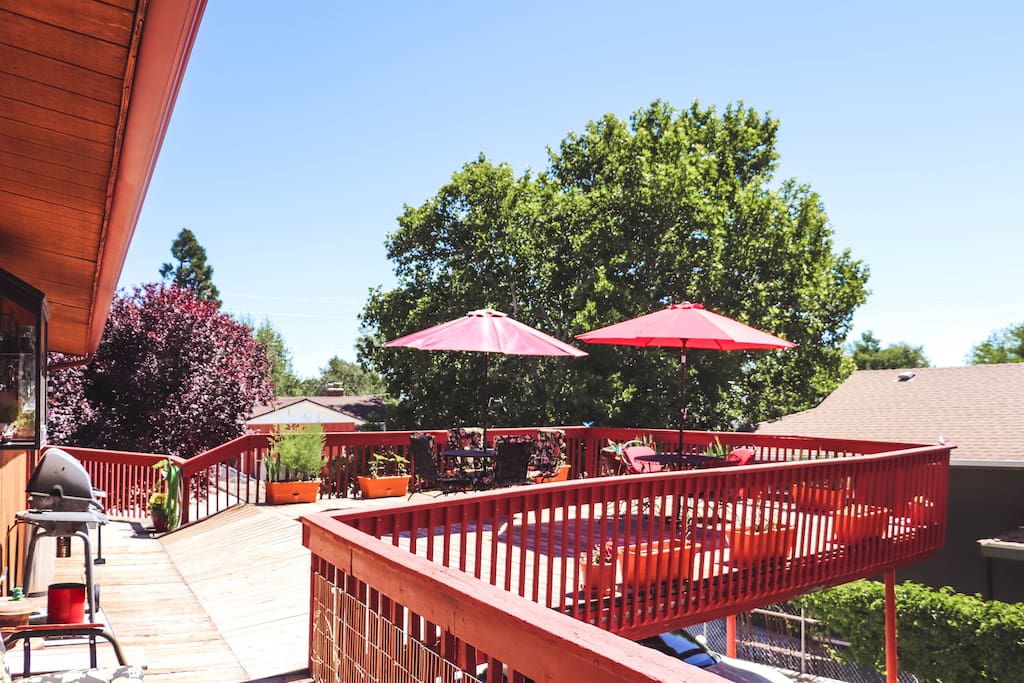 Another full and fun day seeing this amazing country of ours and time to rest and get ready for another phase of the trip as we leave the desert heat and head to the coast of California and Oregon to see the Redwoods and the Pacific Ocean. Yippee!!!
Thanks for coming along this journey with us.
Happy trails and safe traveling…until next time!!
— Owl, Hi-Five and Eagle