Mileage Driven: 26 miles
Points of Interest: Jedediah State Park, the Redwoods!
Facts about Jedediah State Park:
This amazing park covers nearly 10,000 acres along the banks of the Smith River.
It offers over 20 miles of quiet and serene hiking trails and is considered by many reviews to be the most perfect of the Redwood forests.
The best time to see the groves within the park is early morning or late afternoon as the sun is peeking through the massive red trunks, unassumingly brightening up the undercover ecosystem that lies at your feet as you explore this area.
Good morning! Before I begin sharing our hiking fun with you, I have to share our Air B&B experience when we arrived in Crescent City. First off, when hubby and I come back this way, we will definitely be staying with Robin, our sweet host, at this Air B&B. The location is perfect as the house in nestled right amongst the redwoods and is only about 6 miles from downtown Crescent City but yet you feel like you are truly in a land all of your own. The suite we rented is attached to the host's home, however you feel like you truly have all the privacy and comforts you need in your own space. We had a HUGE king bed that was so comfortable, Josh laid in it most of the time we were "home" and honestly, I had a very hard time getting out of it each morning. The suite also had a queen bed and a very comfy sofa. With great access to Netflix, I even was able to get caught up on Season 3 of Stranger Things! Ha! We had a private bathroom, mini fridge, microwave and an oatmeal bar for all our nourishment needs. With all that, our hosts were amazing! Robin and her family were so very welcoming and even invited us on an outing to see Elk as they were heading out one morning.
If you are heading to Crescent City, I can't recommend Robin and her family enough for a very restful and comfortable stay in the area as this home was a perfect home base for all of our exploring! The location is for sure 5+ stars and I can see why they are Superhosts. She was extra sensitive to our needs and gave us many great suggestions for dining and things to do and see. Please see the listing below for more pictures and location information for your future Crescent City needs. We will be back to stay with them for sure in the future.
https://www.airbnb.com/rooms/22269828?source_impression_id=p3_1564443362_AM8EI0cykISinl10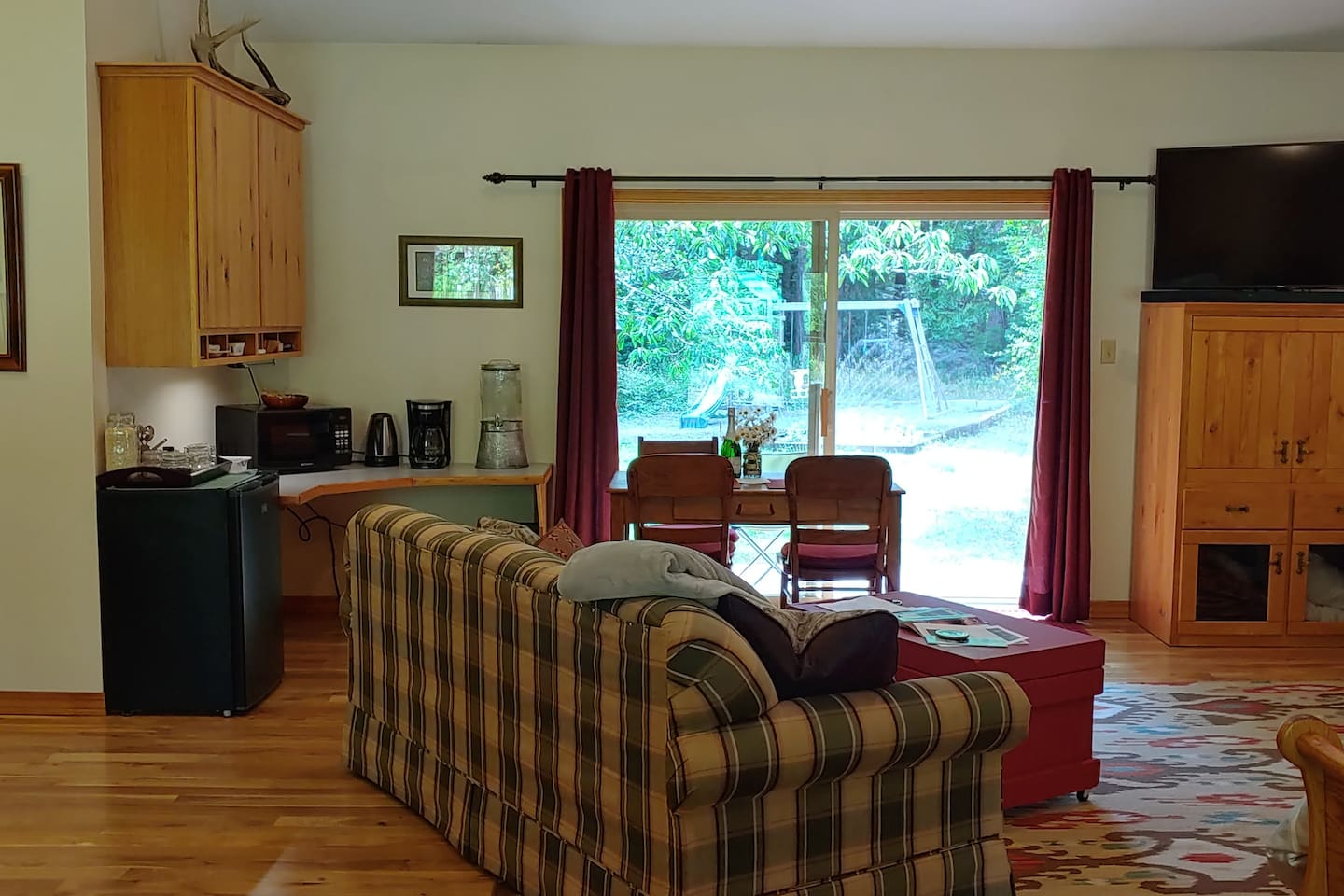 So now onto featuring the beautiful Jedediah State Park expo! Because this park is located near the Oregon border and is the farthest redwood collection from the San Fransisco area, it is less traveled by tourists that come to see the redwoods and thus an amazing serene location. I like less traveled, quieter parks so this place was great to really close your eyes and take it all in…the sounds of the forest, the earthly smells of the underbrush and the overall feeling of being so tiny in a web of life so grand.
The first little trail we wanted to go on was the Simpson Reed/Peterson trail just to get a feel for the area. As you can see, it is a short trail but man you get a lot for your time on this one so if you aren't up for a 5-9 mile hike, make sure you stop and do this one for sure! 38 feet in elevation change….that is cute! Haha!
There are privies at the beginning of the trail so make sure you use them, but warning…they were pretty full when we used them so just make sure to bring hand sanitizer in your backpack which you should already have anyways.
As you look to your right while facing the bathrooms, you will see this amazing giant! Yep, that is Josh standing in front of a downed redwood….now that puts the sizes of these beautiful creations into perspective.
Here is the map so you can see the loop for future planning…
The sign as you enter reads: "Enter an ancient forest where 1,000 year old redwoods form a towering canopy over a mixture of hardwood trees, shrubs and ferns." We were excited to explore them! I could totally see these in existence with Brachiosaurus and Stegosaurus walking the Earth!
We loved when we came across trees that were intertwined with other trunks and became one! How cool is that! This picture below shows that happening perfectly.
When you stick a human in front of them, then you can really see the size that they are!
This was my favorite view so I had to grab a photo of it….look at how nature prevails even in challenges and adversity…it couldn't grow from the ground directly so found a way to grow that was unique and out of the box in expectations…now that is cool! Man, nature ROCKS!!!
Once we walked this very short trail, we drove on through the park to find the Boy Scout Tree Trail as, well, it only made sense that Eagle & Hi-Five would do this hike to see this massive beauty! This one was 5.6 miles in total and was stunning! We went ahead to the falls but they weren't flowing very well but stopped and had a snack there before turning around to head back to the car.
Below is the Boy Scout tree and I wish I would have gotten the boys in front of it so you could see its massiveness. This tree is known as a double stem tree which means two separate trees have essentially fused together to make this one tree. The width of this tree is approx. 23 feet and the height is +238 ft…like I said, pictures don't do them justice. The National Park Service said the tree got its name because of a Boy Scout leader that discovered the tree. Just for our point of reference, this trail is located about 291 miles north of San Fran.
One thing this area is known for are the Redwood Banana Slugs. I hadn't see one until our way back to the car at the end of the day from exploring, so I was excited to finally put my eyes on one and snap a picture. Some cool facts about this unique creature:
The largest North American land mollusk!
May grow up to 10 inches long!
Lifespan can be up to 7 years!!
Can move up to 6.5 inches in a minute!
As we wrap this day up, once you get a great night's rest at Robin's Air B&B in Crescent City, make sure to plan at least one full day to explore Jedediah State Park to experience the best of the best of redwood tree groves and trails.
Coming up tomorrow: Heading south on HWY101 through the Avenue of Giants all the way to San Francisco/Oakland area to check into our 3 night experience on a yacht.
Thanks again for coming along this journey with us. Happy trails and safe traveling…until next time!!
— Owl, Hi-Five and Eagle